We at GTS AG represent real values!
Investments with sustainable growth, crisis-tested, future-oriented
INVESTMENTS IN TANGIBLE ASSETS
Investments in values that are physically present, values that demonstrate stable growth over decades, values that will last tomorrow….
These are the asset classes that GTS AG focuses on. With the alternative investments we have developed, we provide stability to your financial portfolio. Real estate, classic cars, gold, works of art as well as forest & pasture land can be used to diversify existing portfolios. The goal is to minimize the investment risk of your overall portfolio.
INFLATION PROTECTION THROUGH TANGIBLE ASSETS
Thanks to the central banks' expansionary monetary policy, conventional savings models are no longer suitable for preserving saved assets. Ongoing inflation lowers the value of savings with each passing day. In such times, it is important to protect your assets against the loss of value in the long term. This is possible with the help of tangible assets.
RISK MINIMISATION THROUGH DIVERSIFICATION
Tangible assets such as gold, real estate, historic vehicles or diamonds are particularly suitable for diversifying and spreading the risk of existing financial portfolios. However, the selection of suitable tangible assets and the provision of a correspondingly large amount of investment capital to enter the asset classes represent key challenges for many investors.
At the same time, high market entry barriers block the way to investing in tangible assets with stable value. In addition to the relevant specialist knowledge, it takes in-depth market expertise and appropriate networks to be able to operate on the markets with sustainable success. Private investors therefore have only very limited opportunities to participate in the lucrative markets.
GTS AG OPENING NEW MARKETS
GTS AG has set itself the task of removing barriers to market entry and making the markets for tangible assets accessible to the general public. The products we have developed have been designed in such a way that even people with a small capital stock can aim for broad diversification. At the same time, the use of innovative blockchain technology can significantly increase the liquidity of your investment and greatly reduce the costs of management.
Thanks to our market experts, existing networks and cooperation partners, expertise and in-depth market understanding are not mandatory requirements for you as an investor. Thus, you are free to choose and can expand your financial portfolio in a variety of ways.
THIS IS WHERE WE COME IN...
With our products and the help of our cooperation partners, we make it possible for you to invest in real assets directly and without intermediaries. Choose from the various asset classes and compile your own portfolio in an uncomplicated manner to obtain the best possible risk diversification for you.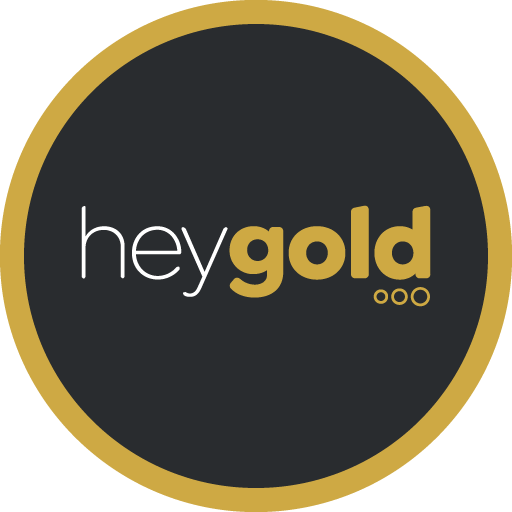 Heygold is the modern way to buy gold
Over the past two decades, the price of gold has risen steadily. Especially in economically and politically uncertain times, this type of investment has proven its worth and brought investors great profits. With heygold you can buy pure gold directly online.

Motivating with the Gold Benefit
The work of good employees is worth more than a monthly salary. Each employee is entitled to receive up to €44 per month as a benefit in kind, tax-free and without deduction of social security contributions. With the Golden Benefit, companies use the full potential of the allowance and reward their best employees with pure gold – month after month!